Grecotel Olympia Riviera Face Treatments
Face to Face with Beauty:
Get your skin into immediate shine

PURE GOLD AND COLLAGEN FACIAL 75'/170€
The ultimate skin brightening treatment using the powerful properties of 24 Carat Gold and Pure Collagen. The facial begins with a plumping Pure Collagen Mask combined with a lifting and toning massage. 24 Carat Gold Leaf is applied and massaged into the skin using gentle, circular movements. The treatment ends with a spritz of Pure Collagen Spray to give a youthful glow.


OLIGO SKIN PROTECT 55'/120€
Detoxifying, balancing, age preventing. The ultimate in building your skin defenses using anti-oxidants, this treatment instantly hydrates and balances, boosting oxygenation to the skin cells. Using the exclusive Anne Semonin Oligo range of products, an advanced formula combining dynamic ingredients such as algae and chlorella, ensures a clear skin, thoroughly protected from the urban environment.


SOOTHING SKIN SAVIOUR 50'/115€
Calming, hydrating, restoring. The secret to soothing even the most delicate skin lies in the exquisite blending of minerals and essential essences. Skin is prepared with gentle cleansing and exfoliation before delighting in the application of the luxurious Anne Semonin cream mask. The generous application of the algae and kaolin clay formula smoothes and nourishes skin revealing a perfectly calm and soothed complexion.


AGE DEFEND 50'/120€
Anti-ageing, ultra firming, toning. Define the ageing process with this quintessential regenerating facial therapy. Signs of aging dissolve as essential oils and minerals are gently massaged into the skin improving tone and elasticity. Mature skins will appreciate the extracts of Mexican wild Yam root and vitamin A & E which provide the ultimate defense against environment aggressions and help maintain a youthful radiance all the way to a cellular level.


CRYO TIME FREEZE 60'/130€
An effective treatment to combat early signs of skin ageing. A firming facial designed to combat the visible signs of ageing. Excellent for mature, dehydrated and dry skin. Neurocosmetic ingredients are combined with 100% Active Serum and modern cryotherapy to give the skin back its natural, youthful glow. The result is instantly firmed, younger-looking skin. A superb treatment to prepare for special occasions.


EXQUISITE MIRACLE EYES 45'/100€
Brightening, distressing, refreshing. An exquisite treatment specifically designed for the delicate eye area. A unique combination of contour masks and specialized lymphatic massage, ideal for reducing the signs of ageing and melting away stress. Cryotherapy ice cubes diminish puffiness and refresh the eyes. Finally, a divine application of miracle eye cream completes the total eye care experience.


DEEP MOISTURISING CAVIAR THERAPY 60΄/100€
For skin in need of a super saturating moisture boost with immediate wonderful results improving the skin's texture, this thirst-quenching luxurious facial treatment is perfect. Spirulina, seaweed and caviar products are applied, feeding the skin with moisture loving actives that will bring back that healthy, dewy look to the face.


CAVIAR LIFT THERAPY 90΄/100€
This superior treatment provides immediate results in the fight against time, this exceptional treatment helps slow down the signs of premature ageing, reducing the appearance of fine lines and wrinkles on the face. A special capsule, rich in black caviar, is combined with a unique anti-ageing mask.


SPECIAL BLACK CAVIAR THERAPY 60´/90€
Α unique cleansing treatment with Black Caviar. You'll see immediate results from this exclusive facial treatment for oily and problem skin. includes application of a mask with Black Caviar to draw out impurities and cleanse skin below the surface. This deep moisturizing treatment leaves skin glowing and supple.


CAVIAR EYE THERAPY 30΄/50€
An advanced anti-ageing therapy to minimize fine lines and wrinkles around the eye contour, as well as the puffiness and the black circles. Eye mask combined with special capsules, rich in black caviar, helps to slow the signs of premature ageing, leaving the skin with a more youthful appearance.


BIO-ENZYME FRUIT EXPRESS THERAPY 30΄/50€
Get your skin into immediate shape with this unique express mask suitable for mixed skin types, acme, freckles, scars, open pores and wrinkles. Based on biological-natural fruit extracts: pineapple, papaya and vitamin C, the gentle fruit enzymes digest the old, rough skin cells on the top layer of the skin to reveal the smooth, rejuvenated skin beneath. The skin becomes radiant, fresh and fine pored.
MEN'S TREATMENT 60'/80€
This comprehensive treatment is adapted specifically for men's skin and involves highly concentrated marine oligo-elements. It removes traces of fatigue and strengthens the natural radiance of the skin. This cream mask combines white clay and seaweed to purify and absorb impurities while taking care of sensitive and delicate skins. The epidermis is rebalanced, and the complexion is radiant and glowing once again. Aimed at sensitive and fragile complexions, this mask soothes and rebalances the skin. In order to quickly reduce any discomfort, this pleasantly cool mask contains seawater which prevents inflammation and soothes sensitive skin. Foam gives the skin a real feeling of well-being.
BEAUTY SALON
Manicure 40'/35€
Long lasting Manicure 45'/45€
Spa Manicure 45'/50 €
Pedicure 50'/50€
Long lasting Pedicure 60'/60€
Spa Pedicure 60'/60 €
Color Change 15€
Long Lasting Color Change 25€
Long Lasting Remover 10€
WAXING
Upper lip 10'/20€
Legs, Bikini & underarms 60'/65€
Legs & Bikini 45'/50€
Lower legs 20'/30€
Underarms or bikini, or lower arms 15'/25€
Eyebrow shaping 15'/10€
Back 30'/35€
Full Legs 40'/40€
Book Online
or Call
+30 26230 64400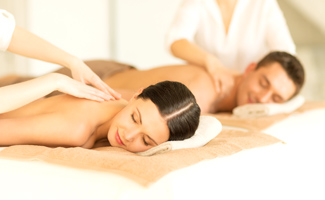 Combine your booking with Spa therapies!
Book your room online and Save up to 20% on the
"
Passion Ritual
", "
Marine Ritual
", "
Age Defend
" & "
Oligo Skin Protect
"
treatments. Contact our Elixir Thalassotherapy Center at +30 26230 64400 or email: reservations.or@grecotel.com
The discount is valid for advance purchase bookings.
---
Elixir Spa therapists can arrange massages, therapies and beauty treatments in the privacy of your suite, villa or outdoors by your pool.
---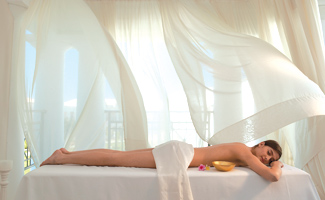 Gazebo Open-air Massage
For the most indulgent experience, the Elixir Spa therapists can arrange a massage in a beach Gazebo under the Peloponnesian sky.
---
♥ Love Potion
An absolutely sensual ritual for two to tantalize & delight! Share an unforgettable experience with your partner.
READ MORE
---
Thalassotherapy
Aqua Elixir Thalasso Round, Hydromassage, Sauna & Hammam. Pamper yourself with this relaxing package of treatments in a customized sequence that features water cannons, jet-streamed water massage, and bubble seats for an effective combination of full-body relaxation and help with problem areas. Improved skin tone and circulation are just two of the rejuvenating effects of thalassotherapy.
---
Don't Miss...
♥
Elixir of Life
:
Restoring body energy, balancing body aura, revitalizing & improving skin firmness.
READ MORE
---
also check
Grecotel Olympia Riviera Special Therapies & Packages