Grecotel Olympia Riviera Special Therapies & Packages
SPECIAL CAVIAR THERAPY, 90' / 135€


The extract of caviar is the secret ingredient in this ultra-nourishing, deep moisturizing body treatment that tones and firms the skin, leaving it smooth and radiant. Reduces cellulite and activates metabolism. Nutrient-rich caviar has a cell format similar to human skin so that the vitamins and minerals are easily absorbed, enhancing cell regeneration.


ANTI-STRESS BACK THERAPY 55'/90€
A self-heating marine mud treatment with natural minerals relieves deep muscle tension in the back and shoulder and area. The feet and lower legs are massaged gently to improve circulation. This energizing, stimulating therapy has a balancing effect, revitalizes your senses and gives you a deep sense of well-being.


LA SÉLECTION DU SOMMELIER 60'/120 €
This pampering body rejuvenation will regenerate the skin to its best. An invigorating body scrub is followed by a nourishing body mask while you drift away with a wonderfully soothing scalp massage… The naturally anti-oxidant benefits of this treatment will enhance body drainage, maximise hydration, plump and smooth to perfection, while nurturing your body in a cloud of well-being.
*
Free use of sauna/hammam
Special Programs
As stress has become an inevitable part of contemporary busy life, we should find our best way to manage daily stress. Specially designed stress relief programs are becoming more and more popular as means for relaxation, good mood, healthy sleeping. We also offer programs for weight loss, immune system improvement and overall recuperation. Detox and Weight loss have become an essential part of a healthy lifestyle. More and more people decide to use their holidays as time to spend on their bodies.

All day Spa 230€
(scrub, massage, wrap and facial)

All day Spa from top to toe 285€
(scrub, massage, wrap, facial, mani & pedi)

Be – Fit slimming program
4 days 620€ | 5 days 760€ | 6 days 920€

Anti-Stress de Luxe program
2 days 415€ | 4 days 800€

Relax – Anti-Stress program
2 days 247€ | 4 days 470€ | 5 days 620€ | 6 days - 745€

Detoxing program
4 days 610€ | 5 days - 750€ | 6 days 904€


All programs include free use of Thalasso-pool, Sauna, Hammam & Jacuzzi
Book Online
or Call
+30 26230 64400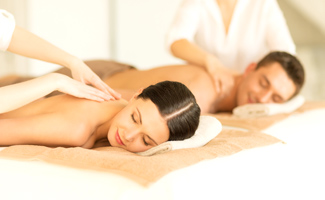 Combine your booking with Spa therapies!
Book your room online and Save up to 30% on the
"Elixir of Life", "Passion Ritual", "Marine Ritual" & "Age Defend"
treatments. Contact our Elixir Thalassotherapy Center at +30 26230 64400 or email: reservations.or@grecotel.com
---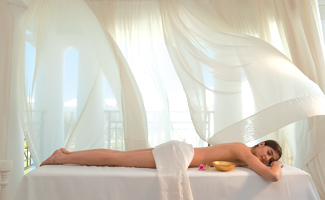 Gazebo Open-air Massage
For the most indulgent experience, the Elixir Spa therapists can arrange a massage in a beach Gazebo under the Peloponnesian sky.
---
♥ Love Potion
An absolutely sensual ritual for two to tantalize & delight! Share an unforgettable experience with your partner.
READ MORE
---
Don't Miss...
♥
Ayurvedic Treatments for Children
.
READ MORE

>
♥
Elixir of Life

:

Restoring body energy, balancing body aura, revitalizing & improving skin firmness.

READ MORE

>
---
Monoi Tiki Oil
MONOI's moisturizing properties mean it helps to soothe the skin and protect it naturally from damage from the sun and the sea. It is the miracle product responsible for the legendary hair of the Tahitian women. Due to its relaxing properties, Monoi TIKI is ideal for relaxing massages.
---